UPDATE – Winner Announced Here.
Scroll down for the giveaway. But first, if you don't mind …
These are some of my favorite words ever. I return to them often for comfort, for a sense of knowing. They are my reminder, my connection with my Self, my home.
Gabrielle Roth, author of Sweat Your Prayers, sums up so beautifully the practice I fell in love with many years ago.
"To sweat is to pray, to make an offering of your innermost self. Sweat is holy water, prayer beads, pearls of liquid that release your past. Sweat is an ancient and universal form of self healing, whether done in the gym, the sauna, or the sweat lodge. I do it on the dance floor. The more you dance, the more you sweat. The more you sweat, the more you pray. The more you pray, the closer you come to ecstasy." -Gabrielle Roth



I do it on my yoga mat. The more I flow, the more I sweat.  I offer my practice and my sweat to something bigger than me, to liberation and transformation, giving myself (and the world which I am part of) the gift of movement and freedom.
And how appropriate that this is my very first Lindsay's Hot Spot exclusive blog giveaway! Drum roll please …. I am giving away the Barkan Method of Hot Yoga DVD for home practice. This DVD is another way I stay connected … to my teacher.
My first class with Jimmy Barkan was in 1999 at his studio in Ft. Lauderdale. All I really remember of that class was the resounding YEEESSSS that spoke so loudly to me. Somehow, when you meet your teacher, you just know. So, when I returned to South Florida in 2009 for his 200 Hour Level 1 Hot Yoga Teacher Training, I felt as if I had come home (yes? yeeeessss!). And I am so glad to share this amazing teacher and lineage of Hot Yoga with all of you.
I realize that you may have some questions …
Who is Jimmy Barkan?
This DVD is awesome you guys. You can have a Hot Yoga practice at home or get your Hot Yoga fix while on the road.
There are two very special things about this DVD that I love and that make it extra-awesome:
1. Tutorial Section: in addition to a full 60 minute Class Section, there is an additional Tutorial Section where you get detailed tips for every posture in the sequence. The really cool part? You can access the tutorial at any point during the class section.
2. There are two people demonstrating: one more advanced and one showing modifications for every posture and for many different levels. So, really, ANYONE can do this!
Here is an excerpt from the DVD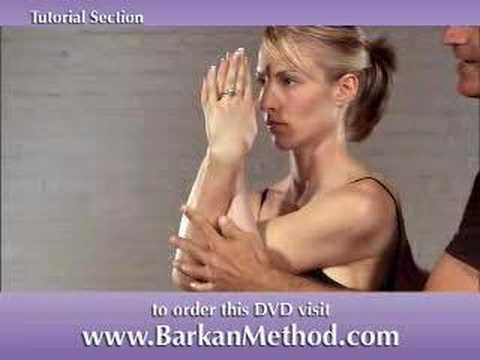 Now …. about the giveaway!
Lots of ways to enter:
-Mandatory: Visit the Barkan Method website and leave a comment here telling me something that you learned (can be anything).
-Leave a comment below sharing your favorite quote, movie, song, etc. that reminds you to connect.
-Subscribe to my monthly email newsletter (info in right sidebar)
-Follow my blog via Google Friend Connect (link in the right sidebar). If you already follow me … that counts.
-"Like" Hot Yoga with Lindsay Fields on Facebook. Again, if you already do … it counts.
-Follow me on Twitter … @lindsayyoga.
Each of these methods count as 1 entry (so, you can have up to 6 entries) but to be counted you must leave a separate comment for each entry.
Contest ends at 11:59pm July 20th, 2010. Winner to be announced on July 21st, 2010.

Open to US residents only.
Let the commenting commence!
Love,
Lindsay